» 10 Most Recent News Posts
Posted by
Nate
Day 217, Year 3 (24th May 13)
@ 16:00:44 IST
===
Space Snow Jar Update
===
The Space Snow Jar has been repriced from 4,000 QP to 1,250 QP! Are you one of the handful of people who purchased one before the price was reduced? Tough Luck!
JOKING!
Send me a PM with information on
when
you purchased and
what you did with the item
and I will send you the full 2,750 QP refund
You may only claim a refund if you purchased the Space Snow Jar for 4,000 QP
from the Quest Store
.
We will be allowing you to PM me (Nate) for the next 48 hours for a refund!
48 Hours from now the Space Snow Jar will reactivate in the Quest Store, and you will no longer be eligible for a refund - no exceptions
.
===
Raffle Store Update
===
We have removed both the
Rave Dabu Morphing Potion
and
Rave Ridix Morphing Potion
from the Raffle Store. They are the worst selling stock of
all custom stores
! (They are still available via the Historian!)
The
Rave Snow Jar
has been removed from the
Snow Jar Igloo
and is now exclusively available in the
Raffle Store
for
1,000 Raffle Tickets
.
===
Historian Update
===
All
Special
MPs that he hands out have been given a
cooldown of 30 days
. This means that when he has given one to someone, he will not give another of that same item out again until 30 days have passed.
We have also bumped up all items in there (other than basic MPs) to a
15 days cooldown
.
Posted by
Nate
Day 215, Year 3 (22nd May 13)
@ 10:42:16 IST
To clear the confusion, I am going to post an avatar solution;
The avatar
Frozen Marathon
must be obtained by creating 60
different
Ice Cubes from the Ice Box within any 24 hour period (EG, between 10am yesterday and 10am today).
To show you how many you have done within a 24 hour period, we have changed the times from text (10 hours ago) to exact times (10h, 31m, 14s ago).
We have also added a number under
My Stats
which shows how many you have created within the previous 24 hour period.
We have also added a list of which avatars you are left to unlock using this feature.
We also added a few.. extra little things to point you in the right direction when trying to earn another of the avatars
Hope this helps!
Posted by
Nate
Day 214, Year 3 (21st May 13)
@ 14:03:41 IST
The following fantastic Custom Avatars have just been awarded to the following users:
LilacPajamas -
Luventas -
Gift from Wonderrabbit to Nyssa -
Gift from Keyara to Kintoshi -
Fashionpup -
These beautiful avatars were drawn by
Read
!
Would YOU like Read to draw you an avatar? You can purchase a
Custom Avatar
from the
ICE Shop
for just
1,400 IC
(
1,260 IC for
Gold Members!
)
Posted by
Nate
Day 214, Year 3 (21st May 13)
@ 09:17:58 IST
A Member of the Month (or MOTM for short) is selected every month by the users of IcePets to receive 50,000 IP and this exclusive avatar:
Click here
to place your vote!
Voting ends at 11:59PM May 27th!
======================
Freezer Clarification
(
For the technical-minded
)
Some users have asked why the
Freezer
data cannot be transferred to the Ice Box, and have said that it is
not fair
that they have to freeze rare items that they have done previously.
Well, unfortunately, the only information that we logged about the
Freezer
was the total times each item had been converted. Please see the screenshot below: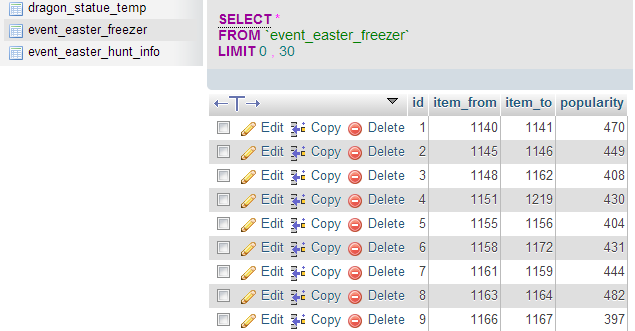 On the left you can see the table names (Layman: table = folder within a database). You can clearly see there is only one table (folder) for the
freezer
content.
On the right, at the top you can see that we are selecting the content to show, and underneath it lists each item+cube item ID (item_from, item_to) number along with the number of times each has been converted (popularity).
Hopefully this sheds more light on this issue - basically we did not previously record how many times an individual had used this feature, hence we are not able to transfer it.
======================
More Ice Cubes
I didnt add these to the news post yesterday, and most of you have noticed already, however I would also like to announce that Hornbuckle has done a fantastic job of drawing the remaining Snow Jars and Jakrit Eggs as their Ice Cube variant so that we have full sets of content! Thanks HB!
==========================
Shopping Ice Cube
To make sure that this midnight-awarded Ice Cube, I set the system to award to me to ensure that it was working correctly.
After a few tweaks yesterday, I can confirm that today it is working great, and will now award every day to the person who spends the most in NPC Shops. You will receive the following message: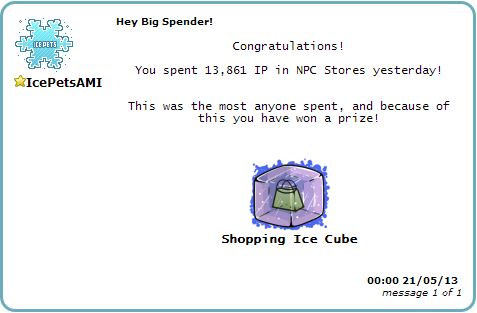 Do you think we should add a message for the Flaming Ice Cube and the Rainbow Ice Cube? Say so in the comments!
Posted by
Nate
Day 213, Year 3 (20th May 13)
@ 15:52:25 IST
We are proud to release our newest permanent feature; the
Ice Box
!
Drawn by Hornbuckle
You can select an item from your inventory to place into the box and if the item can be made into an Ice Cube (
hint: Check your cube collection!
) you will get the Ice Cube version.
If there is no Ice Cube variation you will get a good old:
Melting Ice Cube
Each time you freeze an item, there is a wait time while the box refills. You can choose to wait until the timer gets to 0, OR you can pay Ice Points to speed it up
The wait time increments by 60 seconds each time you freeze an item, however it resets back to 0 at midnight.
There are
6 new avatars
that can be earned from this feature!
Drawn by Read
Avatars from left to right are:
Box Basher, Cube Activist, Cube Explorer, Cube Professional, Frozen Marathon, I..See Cubes..Everywhere
You can find this feature added to the
Games Page
(or you can just
click here
)
Posted by
Nate
Day 212, Year 3 (19th May 13)
@ 16:43:41 IST
We have just updated
80 Ice Cubes
. The changes can be simple things such as a value change, to more complex things such as completely changing the name, or location where it is obtained from.
For those interested, you can view/download the text file
here
.
The reason for this is to make way for an
unreleased
feature, and to ensure that Ice Cubes are available in a fair, but challenging way for everyone.
We have
only done what is on this list
.
Every other Ice Cube (or things that have not changed) are not listed.
Posted by
Nate
Day 212, Year 3 (19th May 13)
@ 06:34:05 IST
Say hello to the new
Space Sharshel
!
ZzzzzzzzZZZZZzzz
Wonderrabbit
funded some content in 2012, however as development changes, unfortunately this content kept getting pushed back. Instead we have come to an agreement to put her fundings towards funding some pets instead!
This amazing pet+potion was drawn by Hornbuckle!
.
Space Sharshel Morphing Potion
It is available in the
Snow Jar Igloo
for 23,500 IP or from
ICE Shop
for 599 IC!
Thank You Wonderrabbit!
======================
You should also see the ability to start requesting pets opening soon. We have developed an entirely new system for handling this content, and hope to have it live soon!
Thanks for your patience!
Posted by
autobot
Day 212, Year 3 (19th May 13)
@ 00:02:01 IST
Raffle Result
This weeks raffle was won by Luventas.
They received
3,075,300
IP!
The latest trophies have been awarded, and the leaders are as follows :-
Catch
First Place, with a score of 438:

Korn

Ice Breaker
Second Place, with a score of 444:

deneze44

Third Place, with a score of 421:

Dana
Ice Snake
Second Place, with a score of 270:

Dana

Third Place, with a score of 225:

Pierre
Jar Match
Third Place, with a score of 315:

Korn
Red vs Blue
First Place, with a score of 86:

Tokcando

Second Place, with a score of 80:

Erikk

Survivor
Posted by
Claws
Day 210, Year 3 (17th May 13)
@ 15:14:33 IST
IcePets Newsletter #1 will be sent out soon, but first we need you to subscribe
here
.
The newsletter features:
Questions From Players - Message Claws with any question you want to ask any staff member and it might get published.
Recap - You will get a brief recap of recent happenings.
Looking Forward - Info on what you can expect from IcePets looking forward.
Behind The Scenes - Some info on what's happening behind the scenes is shared in this segment.
Contest! - Each newsletter comes with a different contest for you to play in and win prizes.
Last but not least - you get a special prize for being awesome enough to read our newsletter.
Posted by
Osteology
Day 209, Year 3 (16th May 13)
@ 16:01:43 IST
Just a baby update for you all -
The following item has been released into the Raffle Store!
All thanks to the lovely roar!
If you happen to have
75 Raffle Credits
to spare, head on down to the shop and pick yourself up a cool new weapon!